The Resource Center is building a unique collection of religious art drawn from many sources. Although our collection contains many prints of works by "Old Masters," we have given particular emphasis to contemporary art by African or African American, Asian, Hispanic, and Native American artists, as well as the art of women.  In addition to the prints, we are also building a collection of excellent art books, some of which do not circulate but are available for research purposes at the Center.
The earliest pieces in the collection came to us as a part of the Joseph Nash Multicultural Collection, due to Mr. Nash's keen interest in the work of racial/ethnic artists. Some of our prints were included in a supplementary resource for use with Imaging the Word, the outstanding curriculum once published by United Church Press — The Inviting Word.
More recently, a number of prints have been given to us by Naomi Wray, a United Methodist artist and retired missionary who, at the time, lived in Schuyler, Virginia. She has since moved to Asheville, North Carolina. Ms. Wray, together with her husband, served for many years in India, where she helped form the Asian Christian Artists Association. She has represented a number of Indian artists in this country, finding outlets for their work; among them is Frank Wesley.
Mr. Wesley's work was featured in the 2001-2002 Presbyterian Women's Bible study on the Gospel of John. Included in the prints given to The Resource Center are several Wesley works that are familiar worldwide, including The Prodigal Son and Blue Madonna. Also included are prints by a number of other Asian artists, as well as examples of folk art. Also included in the Naomi Wray Collection are several prints of woodcuts by Robert Hodgell, an artist whose work was featured in motive, the ground-breaking periodical which challenged several generations of students from the 1940s into the late 1960s. Although published by the Methodist Student Movement, motive circulated among, and included the voices of, students of other denominations.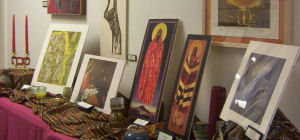 The Resource Center is also building a collection of copies of motive to enable research on this important period in the life of the church. We welcome additional donations of these magazines. An exhibit, The Many Faces of Jesus, has been featured at numerous area churches and at the Pace Center for Campus and Community Ministry at Virginia Commonwealth University in Richmond. The exhibit features portraits of Jesus by artists from many cultures and historical periods, sometimes combined with a small group study of Philip Yancey's The Jesus We Never Knew. Also available to churches wishing to have The Many Faces of Jesus on exhibit at their church, is a program called "Who Do You Say that I Am?" The program includes opportunity to interact with and discuss a cross-section of the larger collection.
An additional exhibit, The Journey , is available.  A collage depiction of the journey of African American peoples from West Africa to this country, through slavery and emancipation, the Civil Rights movement and the death of Dr. Martin Luther King, Jr., and now the election of President Barack Obama, is popular during Black History Month but is appropriate at any time.  Call The Resource Center for information about scheduling and cost of these exhibits.