Teachers and educational leaders in local congregations need both a love of God and a "toolbox" of teaching tools. Without either, the important work of making disciples can fall short. Teachers' Toolbox is designed to help build that toolbox! Whether you're a brand new teacher or have been teaching for awhile, you'll gain useful tools to strengthen your ministry!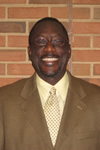 Dr. Nathaniel West will focus his plenary presentation on the "who" of the teacher. To lead effectively and navigate the teaching and learning environment, educators need a keen awareness of who they are as human beings and persons of faith. This session will explore the importance of "being" and its impact on one's "doing," encouraging teachers to acknowledge, understand, and embrace the self that teaches.
Dr. West is Director of Formation and Assistant Professor of Christian Education at the Samuel DeWitt Proctor School of Theology at Virginia Union University. An interactive time of dialogue will follow the plenary presentation where participants can share insights and ask questions.
In addition, you'll choose from four workshops with ideas and strategies for teaching and learning that transform rather than simply informing! Workshop topics to be announced soon.
_____________
Teachers' Toolbox is co-sponsored by The Resource Center, Presbytery of the James Resource Center Purpose Group, and the Samuel DeWitt Proctor School of Theology at Virginia Union University. We are grateful to our host congregation for their hospitality:
Good Shepherd Baptist Church, 1127 N. 28th Street, Richmond, Virginia
Saturday, October 15, 2016
Registration begins at 8:30 a.m.; concludes at 12:30 p.m.
Register ONLINE to reserve your space. Registration is just $25/person for up to four from the same congregation. Five or more from the same congregation may register at the discounted rate of $20/person! Continental breakfast and refreshment break included with registration. Lunch is on your own—grab a bite nearby and share ideas with new friends!