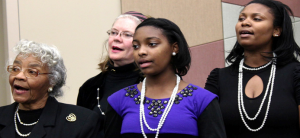 INCLUSION, a choir embodying The Resource Center's vision of unity in diversity, will present its annual concert on Sunday afternoon, June 8th, 4 p.m. at Anointed New Life Baptist Church, North Run V, 1616 E. Parham Road, Henrico.
Marlene Fuller, Janet Copeland, and Randy Creath serve as musical directors for this festival event, with singers drawn from a number of area congregations and various denominations. Special guests will include the Mime Ministry from Anointed New Life Baptist Church, among others.
Music will include selections from a mix of styles, ranging from classics to contemporary, gospel to traditional hymns, and listeners will be invited to sing along for some selections.  Anyone interested in singing with the choir is invited to contact The Resource Center for rehearsal information.
There is no charge for the concert but a love offering will be received, with all proceeds to benefit the ministry of The Resource Center.
Directions: To get to Anointed New Life Baptist Church, take Parham Road to the J. Sargeant Reynolds Community College campus, just west of Brook Road. The North Run Business Park is located across from the campus, and there are two entrances. If you are coming from the west on Parham, make a left into the North Run Business Park, then an immediate right. Coming from the east on Parham, make a right into the North Run Business Park, then an immediate left. From either direction, when you come to the stop sign, turn the only direction you can turn, and continue to the back of the complex. The church's facility is on the left, and you may park anywhere.
Contact us for further information.