Making the Right Choices for YOUR Church!
Selecting curriculum for your church's programs of teaching and learning is not an easy task! How can leaders find the best resource materials from a wide array of possibilities? How can cost be contained without sacrificing quality? Is it user- friendly? Is it attractive? Will teachers – – or learners – – like it? Will real learning take place as a result?
SO MANY CHOICES – – LET US HELP YOU! FIND DOZENS OF POSSIBILITIES TOGETHER IN ONE ROOM!
 Cokesbury  Group  Congregational   Morehouse Education  Standard Ministries Publishing
 Gospel Light Resources  David C. Cook    UMI    And more . . . .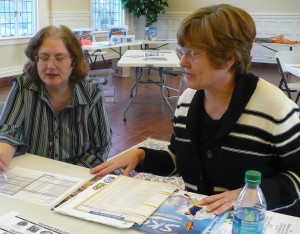 Also enjoy:
Free Curriculum Sample Packs
Demo: One-Room Sunday School
Preview Adult DVD-based Studies
Workshop: What to Do with your TWEENS
Workshop:Leading Small Groups
Free Refreshments
The Fair will take place from Tuesday, July 31 through Thursday, August 2 at The Resource Center located in Virginia Hall at Baptist Theological Seminary at Richmond.
.  Hours at 1pm – 8pm Tuesday and Thursday and 1pm – 5pm on Wednesday.