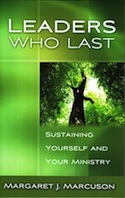 by Margaret J. Marcuson, Author
The author is a seasoned pastor who speaks and writes on leadership and works with church leaders nationally as consultant and coach.  Acknowledging at the outset that leadership in ministry is difficult today, she asserts that it need not be a recipe for burnout – – that there is an easier way.  Her book focuses on the following suggestions:
Be more of a leader and less of a controller.  Adopt a new system of seeing yourself and those you lead.  Focus on yourself and the resources you bring rather than trying to help, fix, or change others.  Respond to others with more clarity calm and creativity.  Remain more thoughtful during challenge and crisis.  Increase your influence without increasing your workload.  Reduce your overall stress about issues of congregational life.
A great book for clergy peer groups to read and discuss together. It just might save them from burnout.  (Seabury Books)