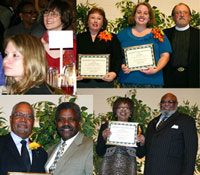 It is not too late to honor those who demonstrate excellence in ministry in our churches.  The deadline for nominations has been extended through November 4, 2011.
Nominate an individual from your church by downloading and completing the Nomination Form.  Then download and complete a Banquet Guests List  in order to make your reservations to join your sisters and brothers in Christ at the banquet on Friday, November 11 as we honor our nominees together.  Mail both forms along with your check to The Resource Center by November 4. Please note: One honoree from your church is considered a guest of the Resource Center to the banquet.  All other banquet tickets are $50.
Visit our events page to learn more about the banquet or contact us for further information.