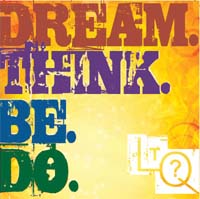 We read and hear much about the "emerging Church" and the many ways in which we are rethinking Church in our time. Some folks, like best-selling novelist Anne Rice, are fed up with what they see as the refusal of Christians to take Christ's teachings seriously, and they abandon institutional Christianity. Others simply settle into a cultural Christianity that Jesus wouldn't recognize. Some, along with Rice, leave the Church and put their intellectual and spiritual energy into new directions – – e.g., house churches – – shunning the layers of tradition that address problems of other centuries, in favor or forms they see as more biblical, more faithful to Jesus' vision.
Maybe it's better that they go. For the most part we don't make critics of the Church feel very welcome. What I have seen firsthand, what countless of my students have testified to in recent years, is that today's church is question-averse. Not a place where questions are welcomed, much less met with intellectual honesty. The result is that those with questions simply stop asking. Or, like Rice, they go away. Brian McLaren, the sought-after speaker and author of A New Kind of Christianity (the latest in a series of books that trace his refusal to ignore the deep questions of his heart), challenges others to "come out of our closets and admit we have been asking these and other questions in secret," and that "we must stop pretending to be content with unsatisfying answers."
United Methodist pastor and blogger Jeffrey Harlow does exactly that in his July 29 entry in which he laments the missing voice of spiritual progressives in the political strategy arena, but acknowledges that he is one of them. However, he writes, "a new wind is blowing . . . a new voice . . . the voice of the Spirit is blowing across the land." Owning that "I have been part of the problem before," he adds, "now, with a bit of support emerging to help me raise my voice, I find myself more confident. OK, I am a spiritual progressive. There, I said it."
It shouldn't be that hard. Asking questions, unpacking ideas. Apparently it is. Living the Questions is the publishing group that seeks to give voice to the progressive wing of the Church. It releasedDreamThinkBeDo this past year, a DVD-based curriculum for use with young adults, college groups and adults in their twenties and thirties. Its twenty sessions, each of which can stand alone, contain a 20-minute DVD segment drawn from the popular LTQ2 series, but updated with connecting narration, graphics, and music likely to engage young adults. DVDs and downloadable participants' guides can be used as is, but they also can be customized to suit your group and setting. DreamThinkBeDo honors questions; indeed, it encourages them.
Israel Galindo, Dean and Professor of Christian Education at Baptist Theological Seminary at Richmond, assesses the content of the series as "solid and presented in a concise format" that presents and explicates theological concepts simply. Less than enthusiastic about its production aspects (more a function of its low-budget origins than the skills and aims of its production team), he found its "short attention span theater" segments usable as discussion starters, and a resource worth looking at, especially in the hands of an effective teacher.
A few good discussion starters, along with an effective teacher with a heart for honesty and candor – – and maybe a little humility. Seems to me that could be a step in the right direction, if we want to reach a couple of generations on their way out the door.